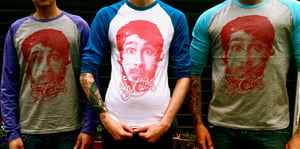 £

11.99
TOLD YOU THEY'D GO QUICK!!!
They're here... So, unless you have cocks for eyes, you'll have seen Dan Mumford's glorious artwork pretty much everywhere you look. Well, Dan is an old friend of ours, a couple of us were in his class all through school. So it seemed obvious for us to get a Mumford T-Shirt. However, we all agreed on something a bit different - his rarely seen beardy face - as a design.
Even if you don't have a clue who I'm on about, it's a cool baseball tee with Spy Catcher in a guy's beard. And what could be better than that?
LAST FEW LEFT!!!